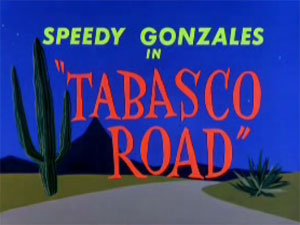 Tabasco Road
is a 1957
Speedy Gonzales
cartoon, part of the
Looney Tunes
series. It was an Academy Award nominee for best short subject but it lost out to
Birds Anonymous
a Merrie Melodies cartoon starring
Tweety Bird
and
Sylvester
, the latter of whom is also often paired with Speedy Gonzales). Both shorts were reissued as Blue Ribbon Merrie Melodies cartoons.
Speedy Gonzales must save his friends, Pablo and Fernando, from a large (and hungry!) alley cat. The trouble is, they are inebriated, and would much rather pick a fight with the cat (and for that matter, any other cat they can find!). Can Speedy save them?
CharactersEdit
Ad blocker interference detected!
Wikia is a free-to-use site that makes money from advertising. We have a modified experience for viewers using ad blockers

Wikia is not accessible if you've made further modifications. Remove the custom ad blocker rule(s) and the page will load as expected.