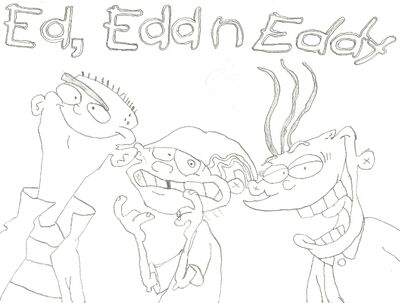 Ed, Edd n Eddy is a 131-episode animated comedy television series created by Danny Antonucci and produced by Canada-based a.k.a. Cartoon. The series debuted on Cartoon Network in the United States on January 4, 1999 and ended on November 8, 2009 with the film Ed, Edd n Eddy's Big Picture Show. The series was originally planned to air for four seasons, but Cartoon Network ordered two additional seasons and three holiday-themed specials as a result of its popularity. Reruns continue to air on Cartoon Network, including airing as part of the revived block Cartoon Planet. The series revolves around three adolescent boys collectively known as "the Eds", who live in a suburban cul-de-sac. Unofficially led by Eddy, the Eds constantly try to scam the fellow cul-de-sac children in order to purchase jawbreakers. The Eds' plans usually fail and leave them in various predicaments.
Feeling confined to gross and edgy work, such as his previous series The Brothers Grunt, artist Danny Antonucci decided to produce an animated children's television show similar to classic cartoons from the 1940s to the 1970s. Antonucci spent months designing the show before trying to sell it to Nickelodeon and Cartoon Network. Both studios reacted enthusiastically and wanted to see more but demanded creative control, which Antonucci refused. Cartoon Network commissioned the show after they agreed to let Antonucci go in his own direction. The first two seasons were released on DVD in 2006 and 2007. Two DVD volumes were also released: Edifying Ed-Ventures on May 10, 2005, in Region 1 and in Region 2 on May 16, 2006, and Fools' Par-Ed-Ise on March 31, 2006, in Region 1. Selected episodes were featured in Cartoon Network compilation DVDs. The first five seasons, in addition to the Big Picture Show film are available for download on the iTunes Store. The complete first and second season DVDs can be rented from Netflix, while the third season and the fourth season can be streamed from the same service. The third season can be downloaded from the Google Play store and Amazon.com.
Ed, Edd n Eddy received generally positive reviews from critics. Viewed from 31 million households worldwide in 29 different countries, Ed, Edd n Eddy was popular among both younger and older viewers. During its run, the series won a Reuben Award, two Leo Awards and a SOCAN Award out of a total of 11 award nominations, which include one Reuben Award, six Leo Awards, one Annie Award, two Kids' Choice Awards and the SOCAN Award. It remains the longest-running original Cartoon Network series and Canadian-made animated series to date.
Track Guide
Edit
#
No.
TV Broadcast
Title
Original Airdate
Season 1
1A
1
101
The Ed-touchables
January 4, 1999
1B
2
102
Nagged to Ed
2A
3
103
Pop Goes the Ed
January 11, 1999
2B
4
104
Over Your Ed
3A
5
105
A Pinch to Grow an Ed
January 18, 1999
3B
6
106
Sir Ed-a-Lot
4A
7
107
Quick Shot Ed
January 25, 1999
4B
8
108
Read All About Ed
5A
9
109
An Ed Too Many
February 1, 1999
5B
10
110
Ed-n-Seek
6A
11
111
Look Into My Eds
February 8, 1999
6B
12
112
Tag Yer Ed
7A
13
113
Dawn of the Eds
February 15, 1999
7B
14
114
Virt-Ed-Go
8A
15
115
Keeping Up With the Eds
February 22, 1999
8B
16
116
Who, What, Where, Ed
9A
17
117
Fool On the Ed
March 1, 1999
9B
18
118
A Boy and His Ed
10A
19
119
Laugh Ed Laugh
March 8, 1999
10B
20
120
It's Way Ed
11A
21
121
Eds-Aggerate
March 15, 1999
11B
22
122
Oath to an Ed
12A
23
123
A Glass of Ed
March 22, 1999
12B
24
124
Flea-Bitten Ed
13A
25
125
Button Yer Ed
March 29, 1999
13B
26
126
Avast Ye Eds
Season 2
14A
27
201
Eeny, Meeny, Miney, Ed
September 13, 1999
14B
28
202
Ready, Set... Ed!
Ad blocker interference detected!
Wikia is a free-to-use site that makes money from advertising. We have a modified experience for viewers using ad blockers

Wikia is not accessible if you've made further modifications. Remove the custom ad blocker rule(s) and the page will load as expected.