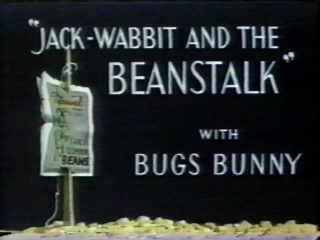 Jack-Wabbit and the Beanstalk is a 1943 Warner Bros. cartoon in the Merrie Melodiesseries, directed by Friz Freleng and starring Bugs Bunny. Voices are provided by Mel Blanc.
The film opens as if it's Jack and the Beanstalk, and finds Warner's famous "jackrabbit" (Bugs), already in the giant's lofty realm, chopping down gigantic carrots. It turns out they belong to a dim-witted giant.
The giant is incensed at Bugs invading his "Victory garden", and Bugs spends most of the rest of the film trying to elude the giant. At one point he challenges him to a duel, and the giant starts pacing off into the distance and is soon over the horizon. Bugs' self-congratulation ("You know, I'm so smart, sometimes it almost frightens me") is short-lived, as the giant comes toward him from the other horizon.
Finally, the giant accidentally falls from his sky-borne realm and crashes into the ground, making a huge giant-shaped hole. Instead of being dead, the hard-headed giant simply sits up, dizzy, and invokes a well-known comic catch-phrase, "Duh, watch out for dat foist step - it's a lulu!".
Characters
Edit
Ad blocker interference detected!
Wikia is a free-to-use site that makes money from advertising. We have a modified experience for viewers using ad blockers

Wikia is not accessible if you've made further modifications. Remove the custom ad blocker rule(s) and the page will load as expected.