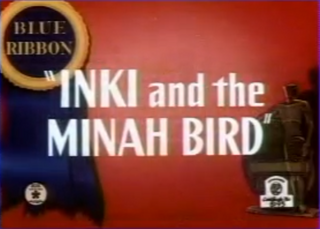 Inki and The Minah Bird 
is a 1943
Looney Tunes
 short.
Inki is an African child who runs into a denture-wearing lion while hunting with a spear. The lion then chases the young native all over creation. The Minah Bird joins forces with Inki against the mighty lion, but proceeds to mess everything up for all.
This cartoon is not currently shown on American television because of characters, scenes or situations that portray potentially offensive, negative or otherwise socially unacceptable content which may be perceived as fostering stereotypes of Blacks.
Characters
Edit
Ad blocker interference detected!
Wikia is a free-to-use site that makes money from advertising. We have a modified experience for viewers using ad blockers

Wikia is not accessible if you've made further modifications. Remove the custom ad blocker rule(s) and the page will load as expected.