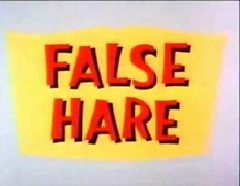 False Hare
is a 1964 Warner Bros. Looney Tunes animated short starring
Bugs Bunny
and the Big Bad Wolf who had previously appeared in Now Hare This (with a special cameo appearance by Foghorn Leghorn). Released on July 28, 1964, the cartoon was written by John W. Dunn and directed by Robert McKimson.
The title is a play on words, taken from the name of a type of German meatloaf, Falscher Hase (in English, "false hare").
This cartoon was the last production completed by the original Warner Bros. Animation studio, and is also the last to feature the "target" opening and closing title cards, and the long-familiar version of the "The Merry-Go-Round Broke Down" theme. This marked the final appearance of Bugs Bunny during the Golden Age of American Animation; Bugs Bunny would not appear in a new cartoon again until 1980. False Hare was the second-to-last short from the original studio to be released; its follow-up, Señorella and the Glass Huarache, featured a modernized Warner Bros. opening and closing credits sequence (previosuly used on Now Hear This and Bartholomew Versus the Wheel) which would introduce the Looney Tunes and Merrie Melodies produced for Warner by DePatie-Freleng Enterprises between 1964 and 1967
Characters
Edit
Ad blocker interference detected!
Wikia is a free-to-use site that makes money from advertising. We have a modified experience for viewers using ad blockers

Wikia is not accessible if you've made further modifications. Remove the custom ad blocker rule(s) and the page will load as expected.