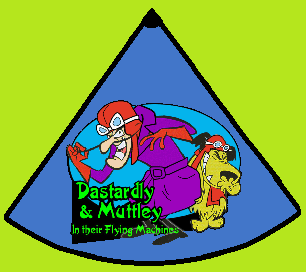 Dastardly and Muttley in Their Flying Machines
is a
cartoon
produced by
Hanna-Barbera Productions
for
CBS
. Originally the series was broadcast as a
Saturday morning cartoon
, airing from September 13, 1969 to January 3, 1970. The show focuses on the efforts of
Dick Dastardly
and his canine sidekick
Muttley
to catch
Yankee Doodle Pigeon
, a
carrier pigeon
who carries secret messages (hence the name of the show's theme song "Stop the Pigeon"). The cartoon was a combination of
Red Baron
-era
Snoopy
,
Wacky Races
(which featured Dastardly and Muttley in a series of car races), and the film
Those Magnificent Men in Their Flying Machines
.
[1]
The show is widely known as Stop the Pigeon based on the show's original working title and the show's theme song, written by William Hanna and Joseph Barbera (and based on the jazz standard "Tiger Rag") which repeats that phrase so often that it is frequently mistaken as the show's actual title. In the UK, the series remains best known by the shorter name Dastardly and Muttley.
The show had only two voice actors: Paul Winchell as Dick Dastardly and the indistinctly heard General, and Don Messick as everybody else. Each 22-minute show was broadcast over half an hour on the network, including network breaks, and contained: two Dastardly & Muttley stories, one Magnificent Muttley story (Muttley's Walter Mitty-style daydreams), and two or three short Wing Dings (brief gags to break up the longer stories).
Dick Dastardly and Muttley, the comic villains from Wacky Races, are flying aces and members of the Vulture Squadron, a crew of aviators on a mission to stop a homing pigeon named Yankee Doodle Pigeon from delivering messages to the other side.
Characters
Plots
Each story features variations on the same plot elements: the Vulture Squadron tries to trap Yankee Doodle Pigeon using one or more planes equipped with Klunk's latest contraption(s), but one or more of the Squadron messes up and the plane(s) either crash, collide or explode (or even all of the above!). While they are falling out of the wreckage, Dick Dastardly calls for help, which Muttley either offers or refuses depending on whether Dastardly agrees to give him a medal. Even when Muttley does agree to fly Dastardly out of trouble, Dastardly seldom has a soft landing. At some point the General calls Dastardly on the phone to demand results. Dastardly assures him that they will soon capture the pigeon, but the General does not believe him and either bellows down the phone or reaches through it and pulls Dastardly's moustache or nose. Klunk then comes up with a new invention and "explains" it in his own unique way. Dastardly says, "What'd he say? What'd he say?" and Zilly interprets, before attempting to run away. Once Muttley has "persuaded" (usually by biting/attacking him) Zilly to return, the Vulture Squadron take off in their new plane(s) to repeat the whole procedure. Eventually, the Squadron is left to lick their wounds as Yankee Doodle Pigeon flies over the horizon, blowing his bugle triumphantly.
Like its predecessor Wacky Races, Dastardly and Muttley in their Flying Machines owes a great deal to the Road Runner cartoons, with Dastardly once again taking the Wile E. Coyote role. Both characters are fanatics, incapable of giving up even in the face of repeated and painful failure. Michael Maltese, who wrote many of the original Road Runner shorts, is also credited as a writer on Wacky Races, The Perils of Penelope Pitstop and Dastardly and Muttley.
Dick Dastardly's appearance in this show was based on the English actor Terry-Thomas, the moustache-twirling villain of Those Magnificent Men in Their Flying Machines, the film which provided the inspiration for Dastardly and Muttley in their Flying Machines.
The setting of the series is never clearly stated, although the type of aircraft suggests the First World War (mostly biplanes, all with fixed undercarriage and some with pusher configuration). The nationality of the Vulture Squadron is also never revealed, if they come from an English-speaking country it is unclear why they are trying to stop an apparently American pigeon.
Copyright: http://en.wikipedia.org/wiki/Dastardly_and_Muttley_in_Their_Flying_Machines
http://hanna-barbera.wikia.com/wiki/Dastardly_%26_Muttley_in_Their_Flying_Machines
.
Ad blocker interference detected!
Wikia is a free-to-use site that makes money from advertising. We have a modified experience for viewers using ad blockers

Wikia is not accessible if you've made further modifications. Remove the custom ad blocker rule(s) and the page will load as expected.